EURORDIS: multi-lingual campaign platform
EURORDIS - Rare Diseases Europe used the powerful multi-lingual functionality of Impact Stack to activate supporters across multiple countries in 23 different languages.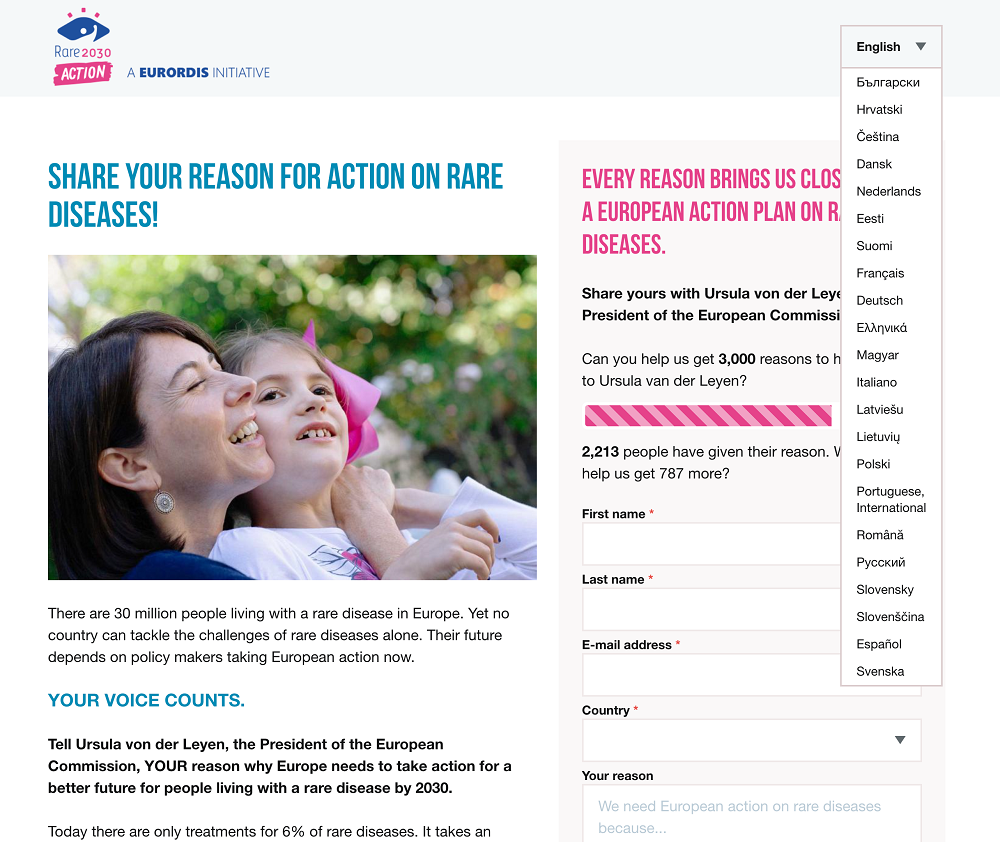 Collecting reasons for action
EURORDIS collected over 2,000 'reasons' for action on rare diseases, via an Impact Stack online action presented in 23 languages, and promoted across Europe by members of their international alliance.
EURORDIS brings together over 1000 rare disease patient organisations in 74 countries. They needed a way to bring the voices and experiences of people directly affected by rare diseases into their campaigning at a European level.
A rare disease is defined as one experience by fewer than 2,000 people. But collectively, over 30 million people in Europe live with a rare disease, many struggling for access to diagnosis, healthcare, awareness and equality.  EURORDIS needed a way to bring those voices more directly into their campaigning work. Rather than commission a custom microsite, they used Impact Stack's powerful out-of-the-box features to build an easy-to-use, well-optimised online action, available in multiple languages, integrated with their email tool and with secure data storage and management.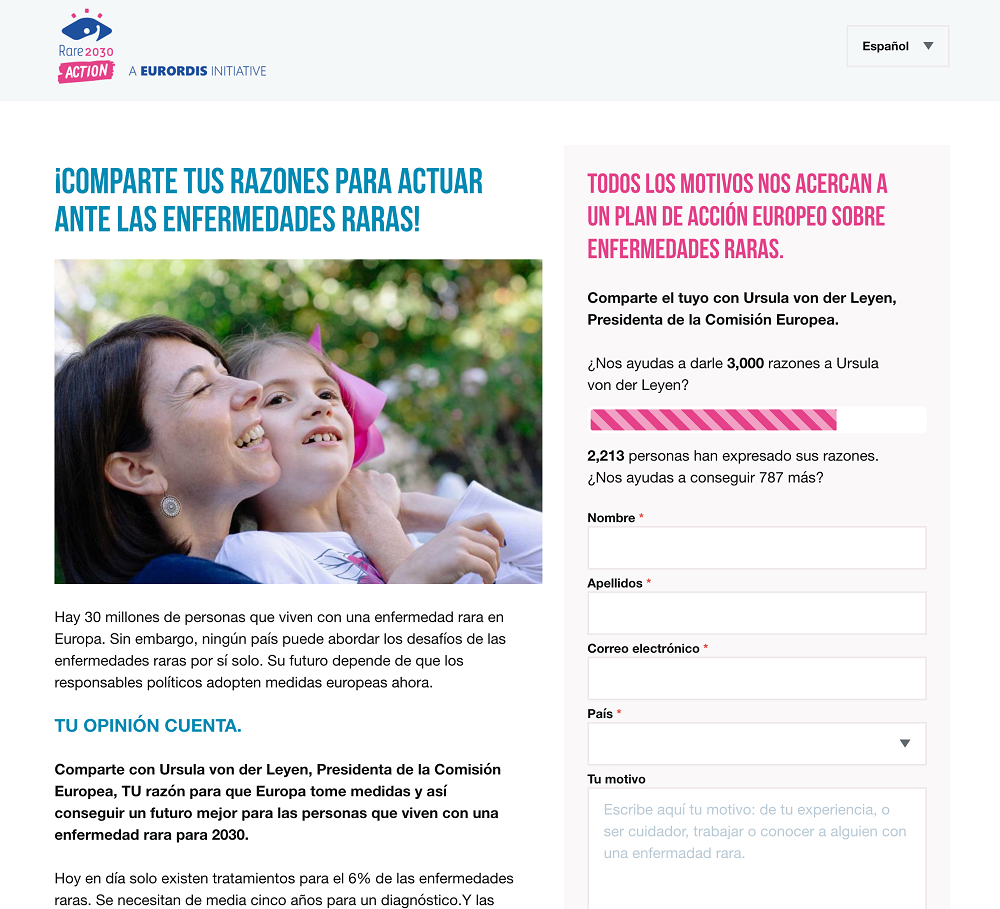 Raising voices, multiple languages
The 2,000 reasons, collected from across Europe, provide compelling and powerful material in support of EURORDIS' European campaigning, providing language and country-specific stories for the alliance's work.
EU Public Affairs Senior Manager Jenny Steele, who led the campaign, says, "It was really powerful that we could replicate everything internationally - the multiple translations were a tremendous amount of work, but the translation functionality in Impact Stack, and the support from the more onion team helped get us to a great result, which was a very important part of our campaign. We often fall into an "English" bias, so to be able to offer activity in languages we had never communicated in allowed us to reach new audiences: 85% of people who gave their testimony were new supporters."
As well as being published online, where they can be browsed by country and theme, the 'reasons' have been turned into a book, which has been presented to policy makers including the Commissioner for Health, Health Ministers from different European countries and MEPs. The reasons were also used in targeted briefings for MEPs before an important European debate.
"Using Impact Stack to engage more directly with people affected by rare diseases has lent legitimacy to our policy approach, and gathered really valuable data and stories which are bringing our campaign to life in multiple ways for a European audience," says Jenny.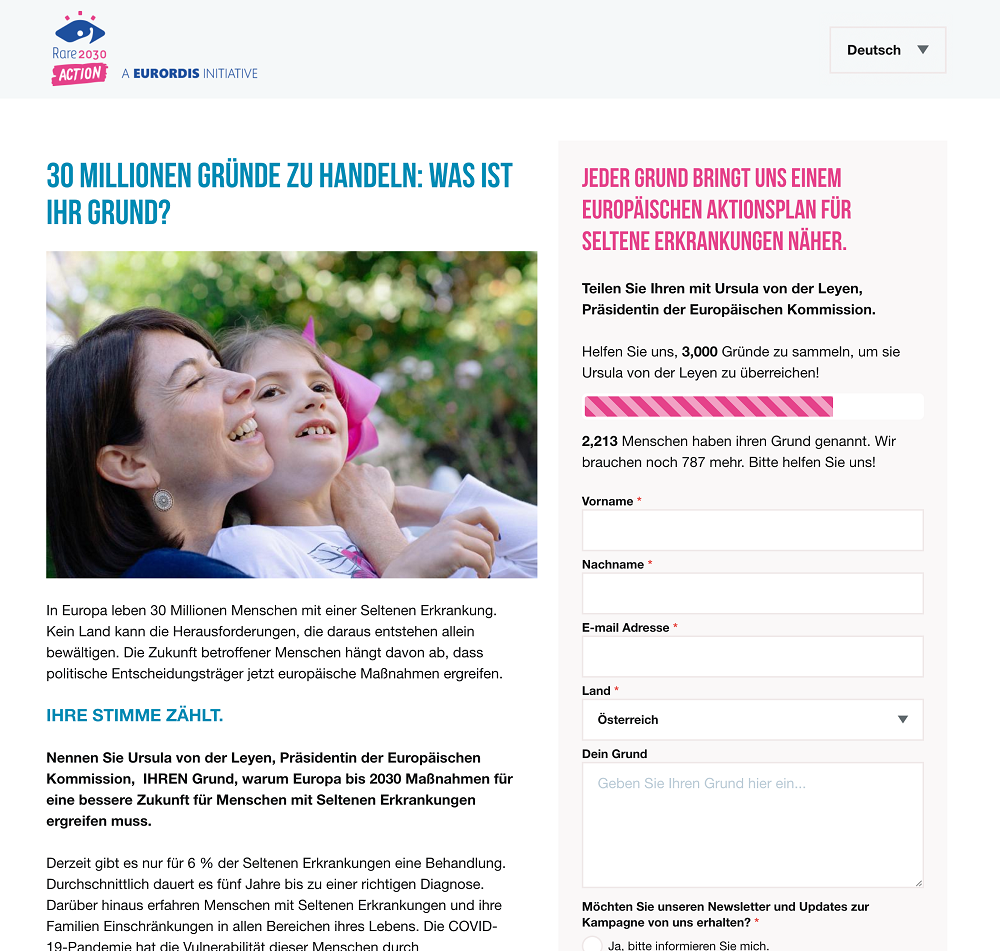 Hear more about this action and others in our webinar Innovative digital campaign actions.