'Campaignion!' is now Impact Stack
Your platform for digital campaigning and fundraising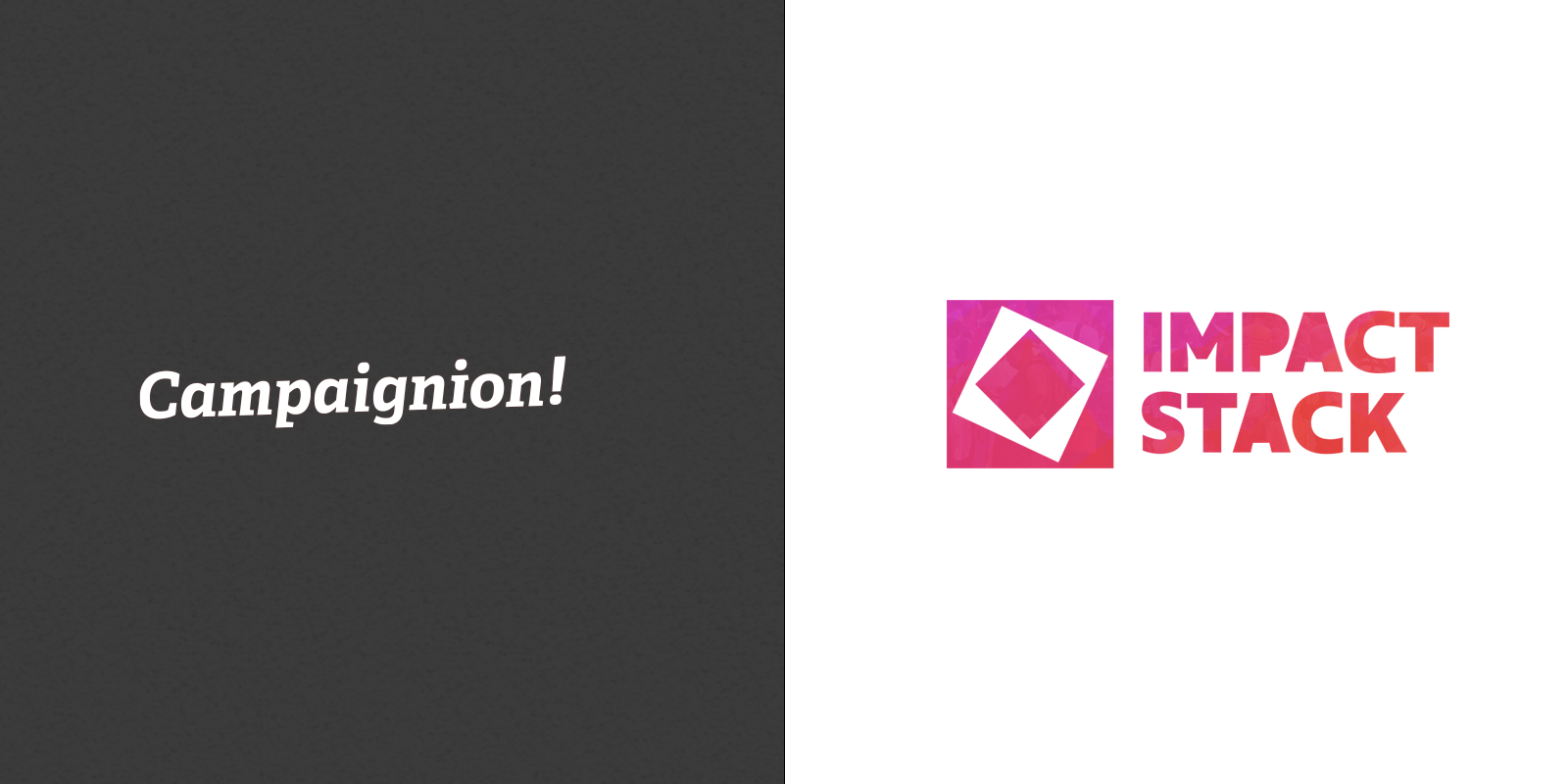 What is Impact Stack?
With Impact Stack you can run highly impactful campaigns, increase your fundraising revenue and grow your movement.
Join leading charities in Europe and use our powerful technology platform to increase your impact.
Find out how Impact Stack can help your organisation
The story behind impact stack
In the summer 9 years ago we built the first petition pages for a few organisations on what later became an extensive platform for digital advocacy. Our goal was always to be a companion for progressive organisations across the world, assisting them with a solid digital platform they can use to launch their campaigns with confidence.
So we named the platform "Campaignion!" (a combination of companion and campaigning).
Since then a lot has happened. Our platform has grown substantially and is now being used by charities, unions and progressive non-profits across the world. It is no longer just used for campaigning, but also to deliver high-converting online donation pages, integrated supporter journeys and digital engagement actions.
That's why we have decided to change our name to better reflect what we want our platform to be all about:  impact. From now onwards "Campaignion!" will be called "Impact Stack" (in short "IST").

Another reason we've chosen to rename our platform is because of the approach we're taking to building it. Instead of relying on one large system that is used by everyone we're building the next generation of our tools with different layers built in. Like a stack.
As a platform we follow a "best in class" technology strategy.
This will ensure that we can cater to large organisations who have very specific needs and require significant customisations to their platform, as well as to smaller organisations who want a system that is already set up for them to launch quickly.
With every step we take you will be able to choose which layer of the stack you want pre-built and which layer you want to customise.
The Impact Stack guiding principles
What we are not changing with this new brand are our guiding principles for the platform. We're building a system that is:
Open
Powerful
Flexible
Impact Stack is open
The key promise is that we want our platform to play well with others. We believe in the power of integrating the tools you're already using and that are working well for you.
We are proud to offer the best email marketing and CRM integrations on the market, rather than building all features ourselves.
Impact Stack is also open in the way it's developed. As you know we always consult our clients on which features to build next and how to build them. Typically we work very closely with a client to launch the first version and test it as part of a real live project. Then we smooth out the edges and turn it into a generic feature that's shared with everyone.
And last but not least, we are dedicated to supporting open source communities. A lot of our code is open source, so it is available to be used and improved by anyone.
Impact Stack is a powerful tool
The software platform not only allows you to respond quickly by building and launching pages in minutes, but it also has an impressive suite of powerful functionality if you want to supercharge your campaigning, fundraising or other forms. From smart message targeting, tailored thank you pages, conditional form fields, and powerful tracking, to full-on custom development for your unique needs, Impact Stack delivers.
Don't adjust your strategies based on what the technology can do, find the technology that empowers you to deliver your strategy.
Impact Stack is a flexible platform
The flexibility of the platform means that it can deliver for your organisation, whatever its size and ambition, whether you're a large international charity or a small operation with just one or two members of staff.
This flexibility lies in the ability to customise the platform when needed but at the same time deliver a solid infrastructure "out of the box".
The people behind the software
What will also not change is the ownership structure and the people making the software possible. It's still the same wonderful team that has supported many of you in the past years.
We are all incredibly excited by this new name and brand identity. It reflects better who we are and what we do.
What do you think?
Of course it is a great start that we now have a name that can be pronounced and spelled without any trouble, so you will no longer have to speculate with your colleagues about what it's called.
But we are really interested to hear your feedback and what you think about the name and the new look.
Feel free to send us your thoughts here.