Our Fish: A campaigning platform to grow the movement
Through Impact Stack Our Fish can launch online actions in minutes in multiple languages.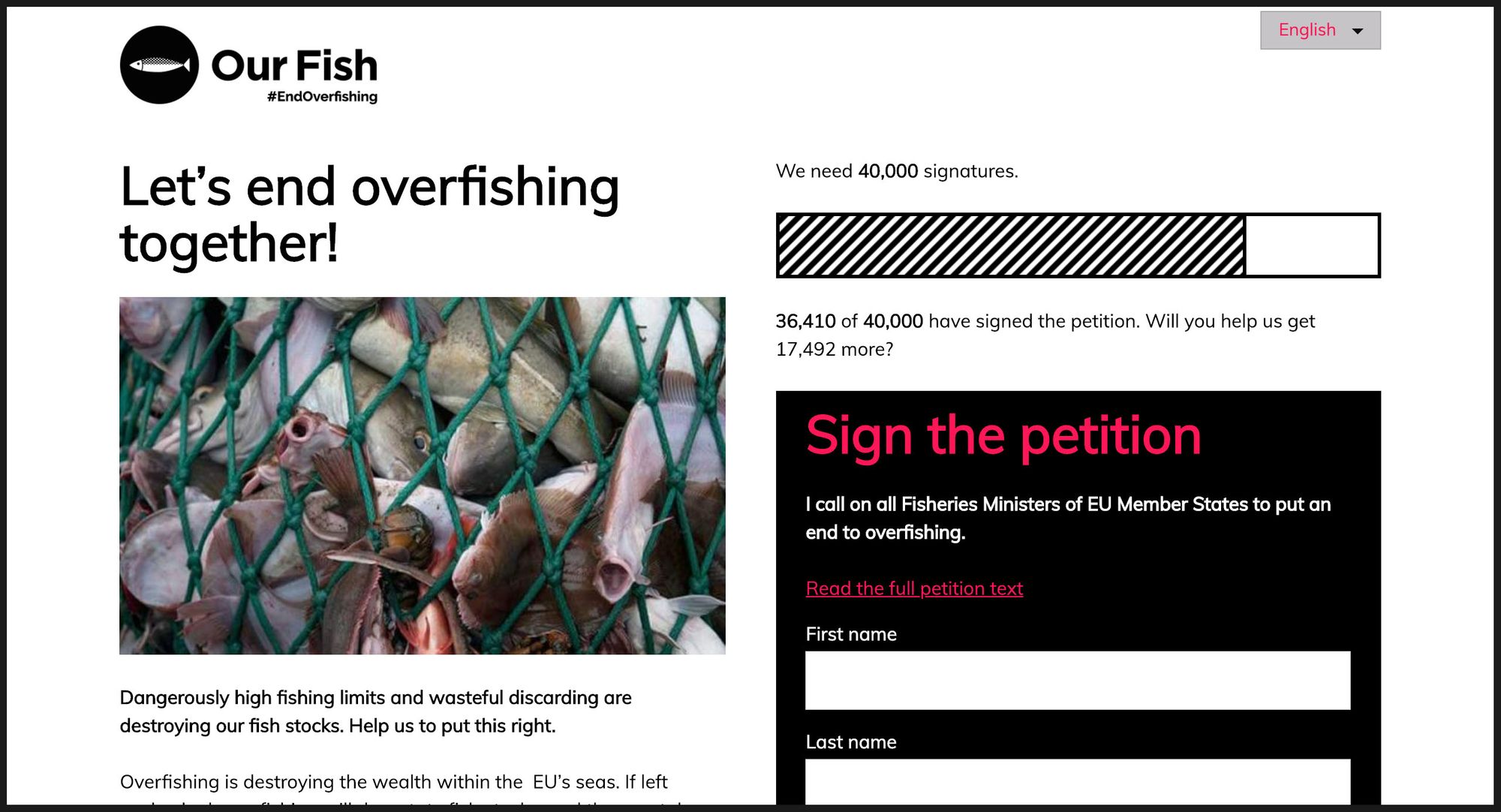 Our Fish has been using Impact Stack since they started public campaigning in 2018. They campaign for sustainable fishing in Europe and wanted to build a supporter base to kick-start their advocacy campaigning efforts across Europe.
Since then they have used Impact Stack forms to recruit and engage their email list of 58,000 people, in four languages.
Great conversion and opt-in rates
When growing your user base, it's really important that your forms, including their email opt-in question are highly optimised for conversion. Their Impact Stack forms are highly usable, clean and clear, making it easy to convince a cold audience to complete them. They also took advantage of some advanced functionality like conditional warning text and tailored thank you pages to give their email opt-in rates that extra boost.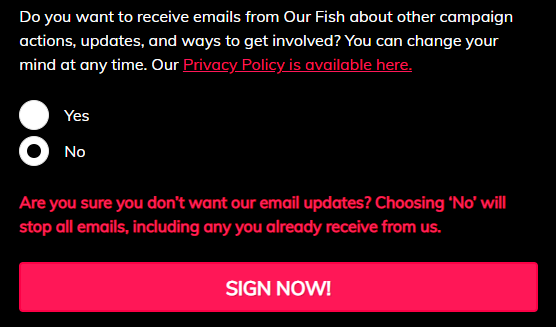 Email integration
Our Fish make the most of Impact Stack's integration with Mailchimp to deliver both automated and manually triggered emails to their supporters. When someone completes a form on Impact Stack and opts in for emails their details are securely and quickly transferred to Mailchimp together with information on what form them have completed. The integration handles subscriptions, sends tags and can automatically put users in a Mailchimp group. This allows Our Fish to effortlessly set up automated welcome journeys for new supporters and to segment their supporters ahead of email sends.
In the other direction, unsubscribes within Mailchimp are sent back to Impact Stack meaning it keeps an accurate record which can be used for delivering tailored thank you page content to people not yet on their list (to try to get them to join!).  
Multi-lingual
Impact Stack has great multi-lingual capabilities, allowing users to create actions and pages in as many languages as they need and to send the users to the right one for their needs. This functionality is used by Our Fish on every one of their actions and pages which are served in English, German, Danish and Dutch.
Many different action types
In addition to their main petition page, Our Fish have created a range of action types on Impact Stack including:
An email to target action to an EU Commissioner
An action which collected submissions towards the EU Commission's 2030 Climate Plan consultation
Question submissions about a new piece of research
Messages to politicians as they met in Brussels to discuss fishing limits (these were both handed in and projected onto the building
An email action to Danish political leaders ahead of an election