Shelter: targeting Councils on renters' rights
Shelter used Impact Stack to create an innovative localised  'open letter' action to help their supporters to lobby Councils on renters' rights.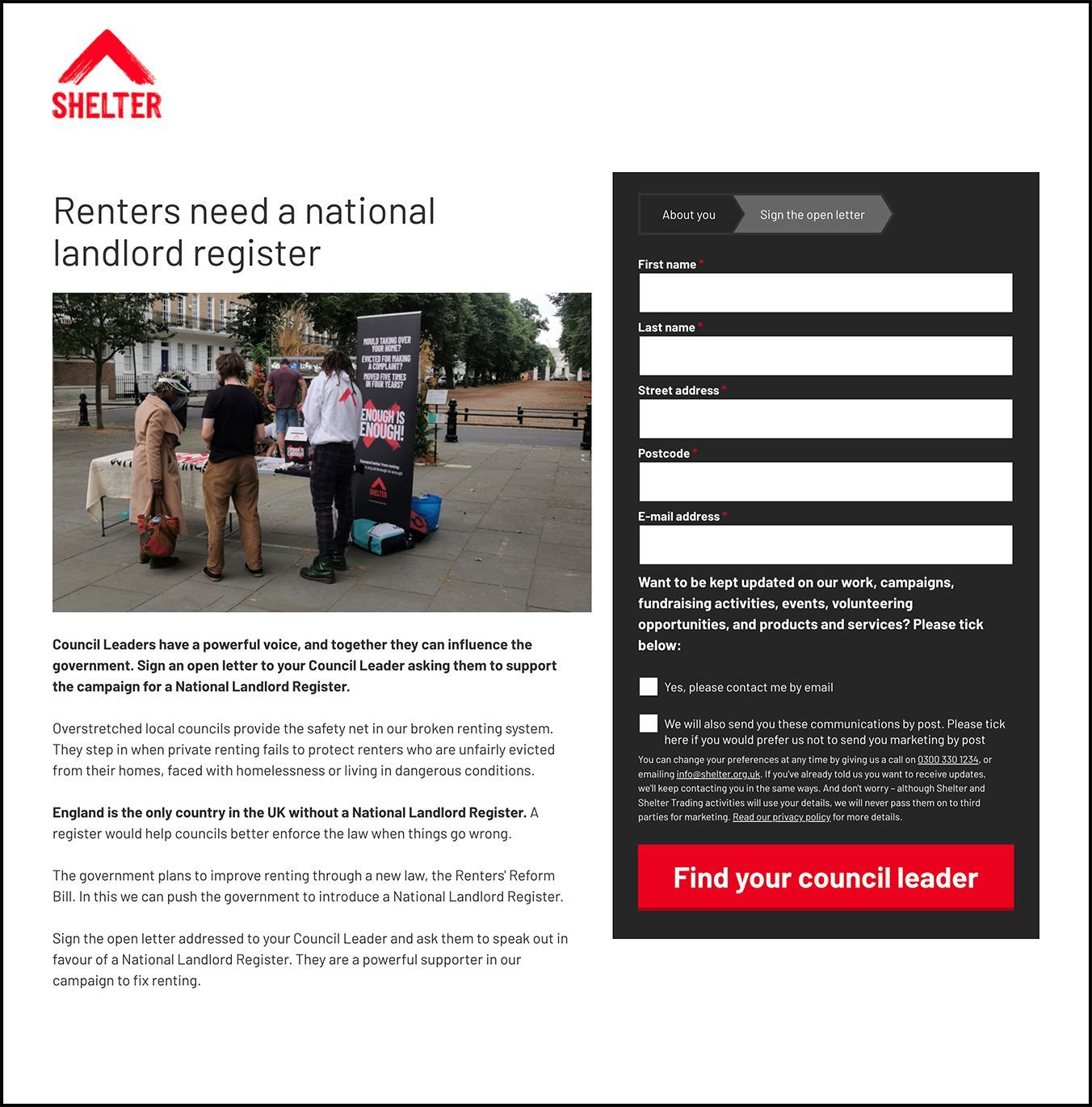 Improving renters' rights is a key objective for Shelter, with a Bill to reform the rental sector in England appearing in the Government's plans for legislation.  Support from Councils is really important: they will need to help administer the new powers that the legislation will bring in, so the Government needs to see that they're on board, and their buy-in is vital for the implementation to succeed once the changes become law.
'Sign the open letter' action
Shelter needed to reach the Council as a whole rather than individual Councillors. Councils simply don't have resources to deal with a lot of incoming email, so a mass email campaign targeting individual ward Councillors wasn't the right approach.
To meet these requirements, more onion developed a new Impact Stack action type. This used the supporter's postcode to match them to their Council leader, and captured their message and personal information instead of sending an email directly to the target. Shelter were then able to take that data and present it to individual Councils as separate open letters, with signatures and personal comments from local people.
Impact Stack's local datasets allow actions to match supporters to their ward Councillors or Council leaders. Actions can target different levels of local government, and filter and tailor messages by UK region/nation, helping your supporters to contact the most appropriate local politicians. More information on our postcode mapped datasets here.
Positive response from Councils
The action was really successful. It gained over 6,000 signatures in the three weeks it was live, and provided local signatures and support for an open letter to every relevant Council in England.
Supporters really liked it, and Councils responded quickly - in some cases within a few hours of the first messages being delivered. Within a few months, a third of English councils were on record as supporting the policy change, including Councils led by different political parties.
The action got a strong response in areas with rural housing issues such as Wiltshire and Cornwall where Shelter, in the past, hasn't always had a strong supporter base.
Increased awareness and support for the reforms among Councils will be really useful to the campaign both in helping to get the legislation passed, and also with the next steps of implementation.
What made it work
The action had an upbeat, positive tone with a focus on the solutions that the new legislation will offer, and calling on Councils to get behind it. Adapting the approach to the target's needs by compiling the local information, rather than bombarding them with emails, made it more likely that the Councils would respond positively.
"Working with Impact Stack we made a strategic decision and designed this action as an open letter rather than an email to target action. By doing so, we created a tool which allowed us to develop relationships with key stakeholders, had high supporter engagement, and helped build pressure on our campaign targets. " James Austin, campaigns officer, Shelter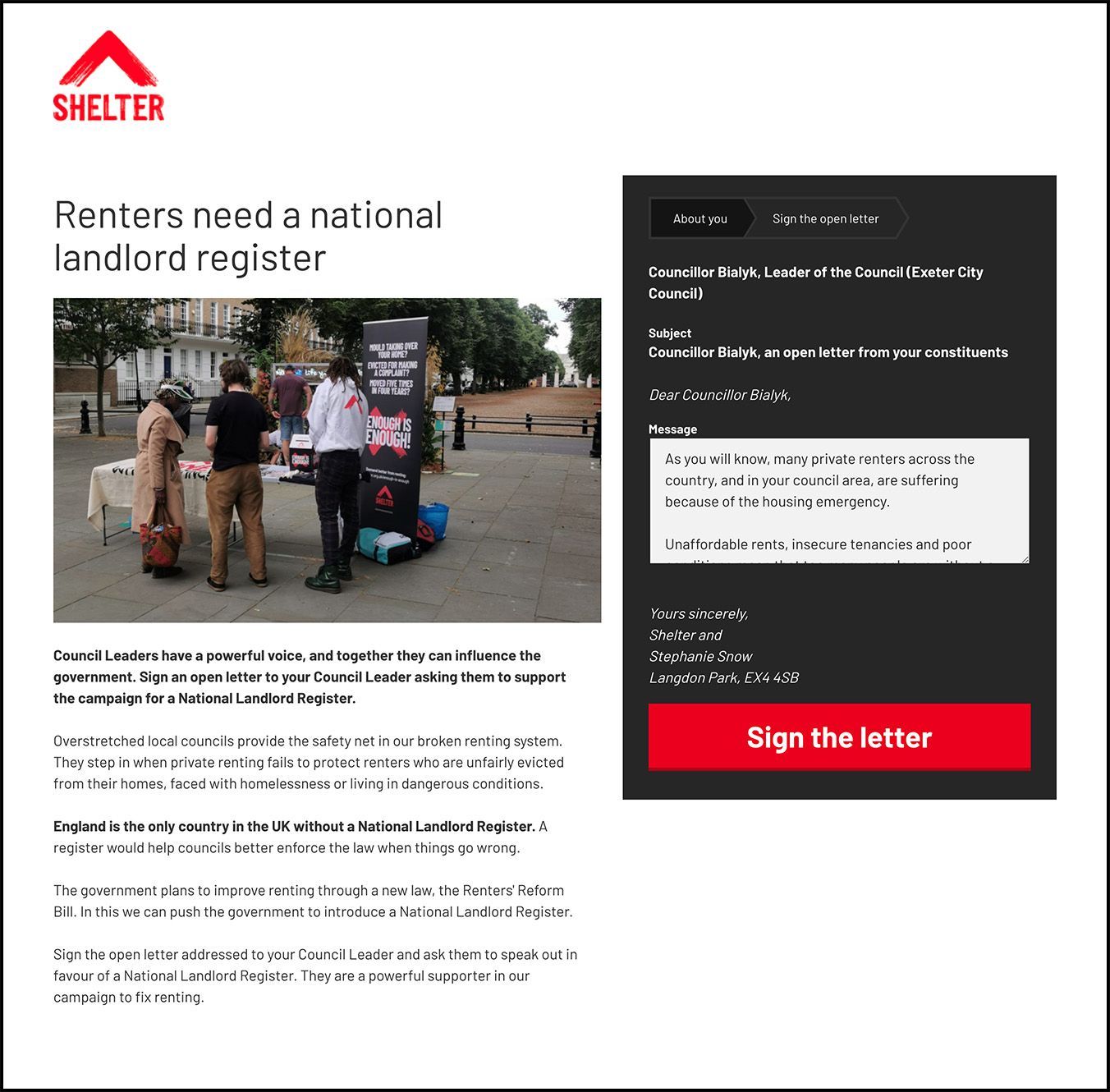 Impact Stack's new 'Match to Target' content type allows organisations to set up open letters or localised petitions which connect people with decision-makers, but collect the data to be delivered to the target at a later date.
---
Would you like to see a demo?
If you would like to explore how Impact Stack can help your organisation win campaigns and engage your supporters we would be happy to show you around the platform.
---
Using political datasets for online actions with Impact Stack
As well as the facility to load your own target datasets, Impact Stack offers a range of postcode-mapped UK datasets to allow you to connect supporters with decision makers in their area. These include MPs, MSPs, MSs, MLAs, Council Leaders, Ward Councillors and GLA members. More info on our ready-to-use datasets here.
We can also work with you on bespoke datasets, such as NHS Trusts, which we set up for Sands. If you have ideas for additional datasets you'd like to see, please get in touch.
You can hear more about creative actions like this one in our free webinar Innovative digital campaign actions.